WHAT ARE YOU WALKING FOR?
On Tuesday September 13th we took a step into new territory, and launched the Walk On! Challenge; an online event that challenges you to make a commitment to Be Your Best Self, set a personal goal in motion and walk. The event is inspired by Bruce Lee's own Walk On! story, which we share below. You can participate from the comfort of your home, a beach, trail, park – basically anywhere you can walk. It's not about the distance you walk, it's about committing yourself to a personal goal and taking the all-important first step towards it. The challenge takes place on Saturday, October 22nd. This is something we've never done before, and are excited (with a few nervous butterflies) to hear your thoughts, and see you take a step towards a personal goal on October 22nd.


A goal for the Bruce Lee Foundation, is to not only be a beacon of motivation for the people our programs support, but also to give you the permission to chase your own goals. Achieving a personal goal, especially one you may have had on the back-burner for a long time or one that might seem impossible to achieve, takes dedication, time, willpower and support from those around you.


That's all well and good, but how do you get started? Below we share the first step Bruce Lee himself took that provided daily motivation for him to keep going during a tough time in his life; a step that reinforced for him that in every single day there is an opportunity to learn, dedicate yourself and take another step towards your ultimate goal. That first step for Bruce was to write it down! He didn't write down his overall goal per say, but this first step was the catalyst for a multitude of personal milestones that were still to come in his life. This is his Walk On! story.
THE WALK ON! STORY
The years between The Green Hornet and the Hong Kong films were often difficult for Bruce Lee. In Hollywood he wasn't getting offered the roles he felt he deserved, he struggled to support his family and injured his back very seriously. Bruce was told that he would never be able to participate in martial arts ever again.


One day he took a hold of one of his own business cards and wrote the phrase "Walk On" on the back. He bought a special stand for this card and kept it on his desk as a constant reminder to keep moving forward. With this as his personal mantra and motivation, Bruce Lee worked himself into the best shape of his life, wrote pages of notes on many different subjects and ideas, and further developed his art of Jeet Kune Do.


The rest…is history. When life gives you obstacles you must summon the courage and Walk On!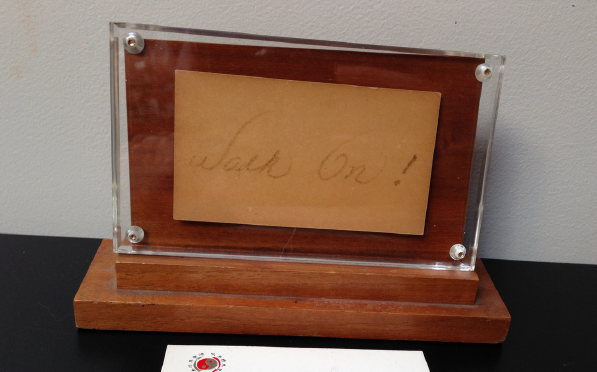 This is the actual business card Bruce kept on his desk as a visual reminder to keep going. Photo supplied courtesy of ® & © Bruce Lee Enterprises, LLC.  All Rights Reserved. www.brucelee.com
Now, it's up to you to take that next step for yourself. Join walkers from all around the world, accept the Walk On! Challenge today and walk towards your goal on October 22nd.
Our Walk On! Challenge goal is to raise $10,000 during the campaign. That money will be invested into our programs, so that more Little Dragons can access martial arts training, BLF Scholars can be provided with mentoring and support throughout the school year and the development of a virtual Bruce Lee Action Museum can continue. It's free to participate in the challenge, and you'll have an opportunity to make a donation or become a fundraiser when you register. We've created a pledge "Commitment Card" for all participants so you can write down and share your goal, as well as put together some exclusive rewards just for fundraisers.
Learn more and register here: impact.bruceleefoundation.org/WalkOnChallenge